The rural context
The Veneto upper plain, in the transition area between the unconfined aquifer and the multi-strata aquifer which makes up the
"resurgence belt"
, has profoundly felt the process of anthropization, a process that is still going on and is substantially altering the landscape.
The towns are increasingly closer together as a result of demand for local housing. There is also a growing desire to leave the increasingly chaotic and polluted cities to live in countryside towns, considered to be more peaceful and liveable.

It has probably been an error to favour the urbanisation of these small towns along the major roads of communication, as was the custom in the past, rather than favouring locations provided with all services but further from the principle traffic arteries, especially those with heavy traffic. Today there is a need to build cycle and pedestrian routes to improve the contact between different realities and ensure safety of movement.

These are particularly difficult to plan and implement especially because of the numerous scattered residences, built without any prioritisation and according to obsolete urban development criteria. Even in the district of Bressanvido this evolution has, in a certain sense,
damaged agricultural development
(the activity that was once the mainstay that provided for most families) as it has fragmented most of the undisturbed tracts of countryside in numerous small pockets of land.

The reduction of the unspoilt countryside has been accompanied by a
reduction in livestock and dairy farming
; both for the difficulties and hard labour involved, coupled with a lack of guaranteed stable income and for the lack of free time that such work entails, especially in a society where leisure is seen as an important part of daily life.
 Currently the few business owners, whose work is based around agricultural activities, need to be equipped with expensive sophisticated machinery; the initial need was to substitute the workforce that left to work in factories and now it's to maximise efficiency and profits, to reduce heavy labour, to keep up to date with technology and with market demands. However, this machinery needs space if it's going to be used to its full potential; which is why one hardly ever sees the small clumps of trees that dotted the fields around 30 years ago. They have been eliminated to allow more room for manoeuvre to machinery. Haymaking, for example, once required a large workforce in the summer periods; today it can easily be done by just one man.

Fortunately in the district of Bressanvido there are still many fields that support a fair number of
dairy farms which has meant the fields for cultivating forage have not all been destroyed
.

In similar plain environments where this kind of livestock farming has disappeared, the permanent meadow has given way to more profitable farming such as corn and soya. The typical wooded areas of the rural Veneto and Vicenza regions have disappeared; you no longer see lines of mulberry, field maple or Italian walnut running through fields; these served both as supports for grape growing vines and sources of shade that was a necessity for field work in times past.
There were many advantages to be had from these hedges, for example; the so called ungrafted vines (Clinto, Clinton Bacò) were grown along these types of tree groups; the trees were pruned in a particular way to prevent excessive shading of the land and the farmers used the pruned branches as firewood; silkworm rearing was another activity, made possible by the presence of the mulberries.

All of these techniques of farming have been abandoned as they require a large workforce and offer low returns.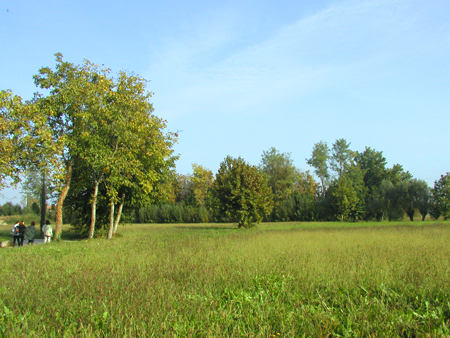 The work is taking place thanks to the availability of volunteers who carry out grass cutting jobs, cutting some dead trees and replacing them with younger suitably selected varieties of trees.

 There were numerous ditches across the landscape, which apart from being used to drain the excess water during rainy periods, served also for irrigation. In our area many of these ditches were once active resurgences that today no longer function due to the drop in the level of the aquifer as a result of massive and increasing water use for civil and industrial purposes.
Unfortunately, what has been happening, and is still happening is that these ditches are being closed to facilitate the mechanization process and consequently some resurgences have been lost, sometimes forever. Even though they may no longer be active, they could be reactivated if the previous environmental conditions were restored.

Today the cultivation of fields
has been increasingly mechanised
and aimed towards high volume production, consequently even the permanent meadows are highly fertilised to shorten the maturation times of forage, potentially risking pollution of the aquifer and consequently the resurgences. Many of the ditches once supplied the zones where hemp was pulped, a rural activity that has now been completely abandoned because of the unbelievable amount of work it involved. Small cattle sheds have given way to fewer large scale livestock farming that can be defined as agri-industries of milk and meat. Due to changes in farming practices these industries, instead of producing good manure, as they did in the past, produce enormous quantities of slurry that is rich in ammoniacal nitrogen which has notable fertilising properties but is more difficult to dispose. There is always a potential risk of this excess nitrogen leaching into ground, reaching the aquifer and polluting both the resurgences and the domestic wells. Fortunately, it must be emphasised that in these last few years there has been
an increase in awareness and attention towards the environment
by most of the Bressanvido population. There is a desire to open the ancient paths to anyone interested and regain the knowledge and wisdom of their uses, to give importance to the local flora and fauna, to maintain and conserve the resurgences for the next generation who would otherwise lose all knowledge of them.
This requires a large amount of time and labour. The work, at the moment, is being done thanks to volunteers who cut the grass, remove some of the dead trees and replace them with saplings of the traditional varieties. Some of the resurgence systems are being restored with volunteer help from various associations in the Sandrigo and Bressanvido Districts and with the help from grants both from the same municipalities as well as from the Pedemontano-Brenta Land Reclamation Consortium. There are many ongoing projects, others are still in planning stages waiting to be implemented.